Enjoy 100% of Saga City!
Cycle Around the Tourist Spots
Cycling trips are full of charm, enjoy your personal sightseeing trip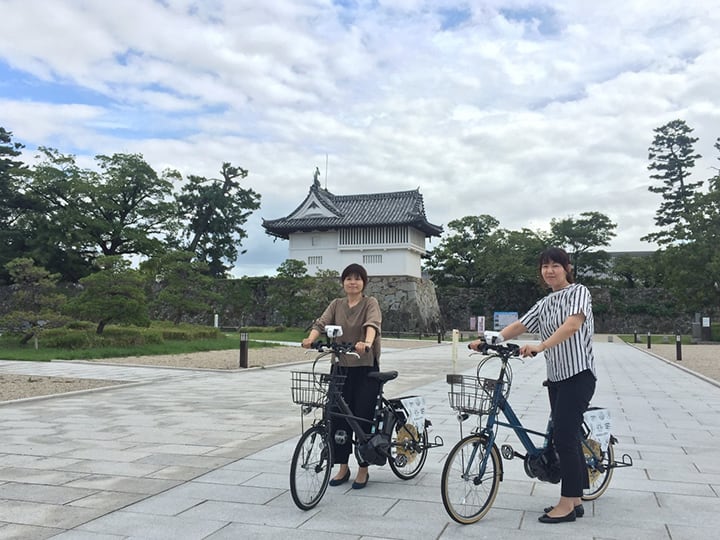 Though you can go for sightseeing on bus tours or in groups, for memories that are different from the usual and not just ordinary traveling, cycling trips are recommended. You can go to any place without worrying about waiting for a bus or train that does not match your schedule, or when you find a shop that you have been looking for, you do not have to worry about parking the car. Cycling trips are ideal for those who love the outdoors as you can enjoy nature.
The most attractive feature of cycling trips is that you can fully enjoy the shops and scenery not listed in the sightseeing guide. Go around Saga city making your own "Sightseeing map".
Start your cycling trip from JR Saga station
Many rental cycles are available around the JR Saga station.
Rental bicycle services are available around the JR Saga station.
Information on rental bicycles is available at the Saga city tourist information center at the station and you can rent a bicycle from rental shops in the vicinity. Not only electric cycles, but also you can rent sports bikes such as cross bikes, or various fancy cycles that look cute, and the fee is 500 yen even if you rent for a day. You can choose what you ride on your purpose or feeling. Detailed information of the places is available at the Saga city tourist information center. Leisurely enjoy the day in Saga city on a bicycle!
First, here's the information on regular sightseeing.
After renting the bicycle, go straight ahead on the main avenue to the south from JR Saga station. Your destination is the famous Balloon Museum of Saga city which is about 1.5 km away. As you smoothly cycle on the main avenue, you will arrive in no time while feeling the breeze. Enjoy the simulation experience of hot-air-balloon flying in the museum and again head south. You can see the Saga Castle History Museum. The Saga Prefectural Museum is nearby, and you can enjoy both history and art.
There are many stylish restaurants along the street that will stimulate your palate. Some special dishes are Saga Sicilian rice, roasted meat, ramen, and sushi. You can also go back near the station and spread your lunch box for a picnic at Dondondonnomori Park.
Enjoy nature! Cycling in Mitsuse Region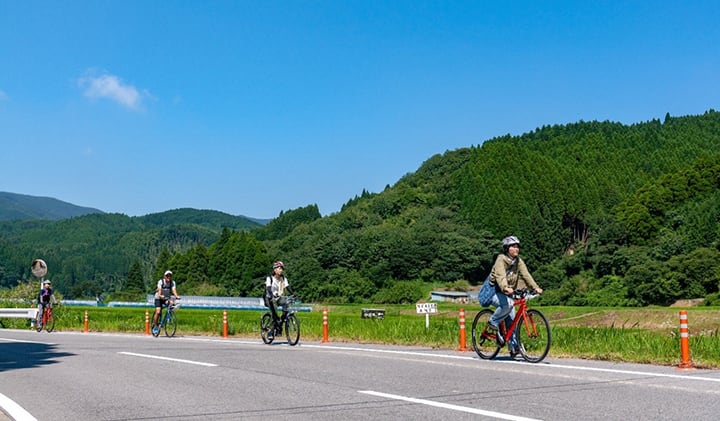 An authentic cycling trip is recommended for people who are not satisfied with only shopping and dining, and those who want to enjoy a different type of sightseeing in Mitsuse, which has abundant nature surrounded by mountains, located in the northern part of Saga city. Mitsuse is approximately 1 hour by bus and 40 minutes by rental car from the JR Saga station.
Board the bus from JR Saga Station Bus Center, get off at the Mitsuse Shakomae bus stop, and walk 50m to reach "Mitsuse Rental Cycle". You can rent cross bikes that are easy to cycle on mountain roads to heal your mind and body while enjoying cycling in the verdant green trees growing in abundance and the clean stream of river murmuring as it flows.
You can take the 1-hour course to go around Mitsuse for 500 yen, or if you want to wander around for a day leisurely, then there is a 6-hour course for 1000 yen. You can request the shop personnel for information on the recommended spots and stores to meet your expectations, and they also rent out accessories such as rucksacks, and these can be used even by beginners without worrying about the luggage.
After sweating it out at Mitsuse Kogen, you can relax at the Furuyu Onsen and get refreshed. You can also stay for a night at an elegant Japanese Ryokan after visiting the hot spring.